Le Tour du Mont Blanc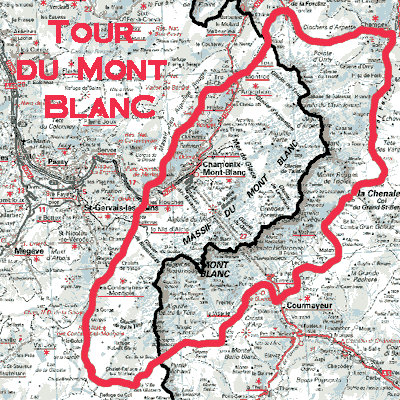 The Tour du Mt Blanc is a 10 days hike around the range of the highest mountain in Europe crossing 3 countries : France, Italy and Switzerland.
Andrea is coming from Sydney and we decided to go for this hike before the snow arrives in the mountain. We met in Grenoble, planned everything and drove to Chamonix. The day after, we were in Les Houches to start this famous hike.
Day 1 : Les Houches - Chalets du Miage (+1192m/-643m)
From Les Houches, we started to climb until we arrived at the Col de Voza (1653m) with an amazing view on the Vallée de Chamonix.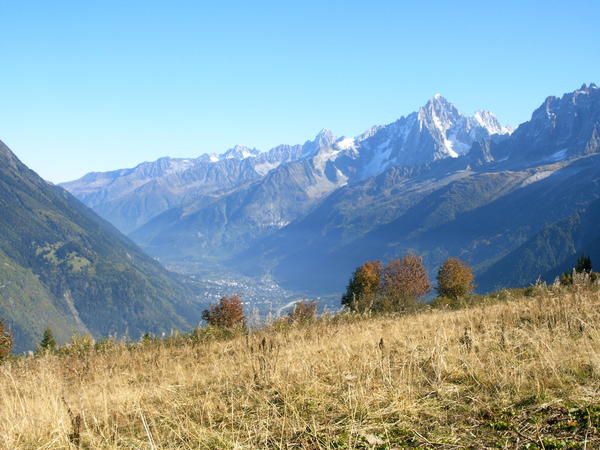 We can see Chamonix in the valley with the Mt Blanc on the right
We choosed a variante of the traditionnal track to enjoy the view of the "glacier des Bionnassay" .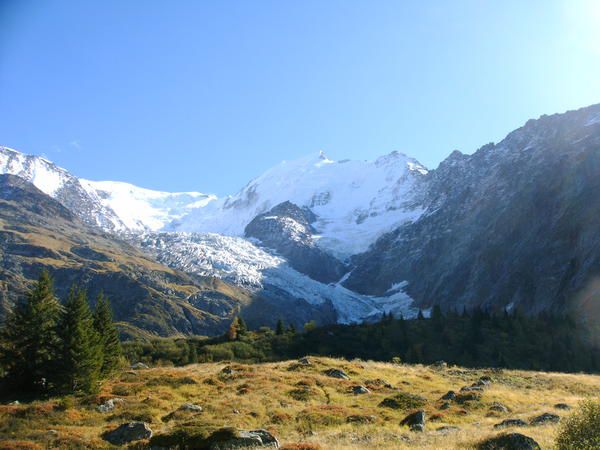 The glacier of Bionnassay
To arrive there, we had to pass the "Col du Tricot"(2120m) which was quite hard for the first day. We decided to camp just under the glacier, hoping it won't get moulted in just one night.
Day 2 : Chalets de Miage - La Balme (+704m/-556m)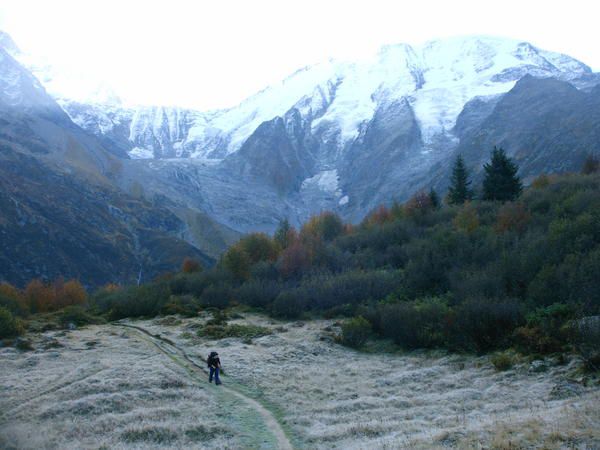 A cold start in the morning
From the Chalets, we had a short climb before hiking down to "Les Contamines-Montjoie", a village where we got some fresh bred and stuff.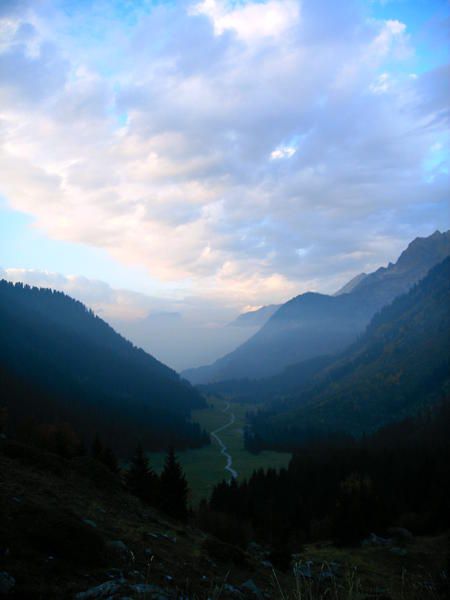 The valley of "La Balme"
After a long flat walk, we started to hike up again to "La Balme" where we decided to stay for the night.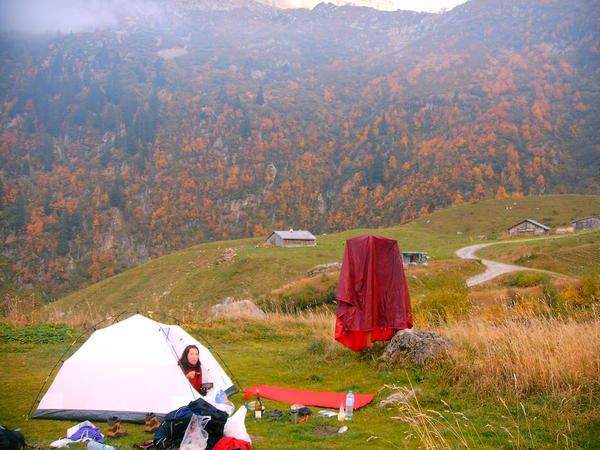 Our base camp
Day 3 : La Balme - Les Mottets ( +1043m/-879m)
We woke up at 6.00 to get ready for the sunrise, we had a big day in front of us : the climbing of "Le Col du Petit Bonhomme" (2433m).
It took us 2h30 to get to the top, it was very windy and very cold up there but the scenery was fantastic.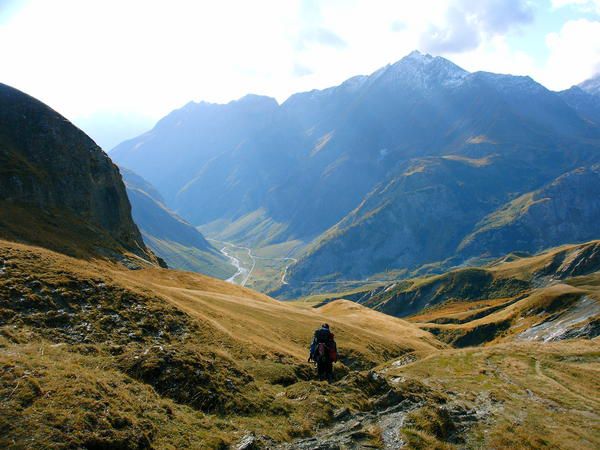 On the way down to "Les Chapieux"
We didn't stay to long there 'cause it was too cold. We started to hike down to "Les Chapieux" (1554m) where we enjoyed a nice lemonade in a café. I know, it doesn't seem to be very extreme but this lemonade has been so good, it would have been a shame to miss that one!
After that, we just walked for 2 hours to "Les Mottets" (1870m) which is a hutt, closed at this time of the year. We wanted to camp, but we had "le Föhen", a special breeze with some 70 km/h gusts so we choosed to "open" a door of an old basement (or cow house?) to have a peacefull sleep.
Day 4 : Les Mottets - Dolonne (+1066m/-1726m)
The hike started with the sunrise and with a big ascent : "Le Col de la Seigne" (2516m) with is literraly the border between France and Italy. The weather was perfect, no wind anymore and we havn't seen a cloud all day long. It was still quite cold but we got warmer very quickly after few steps.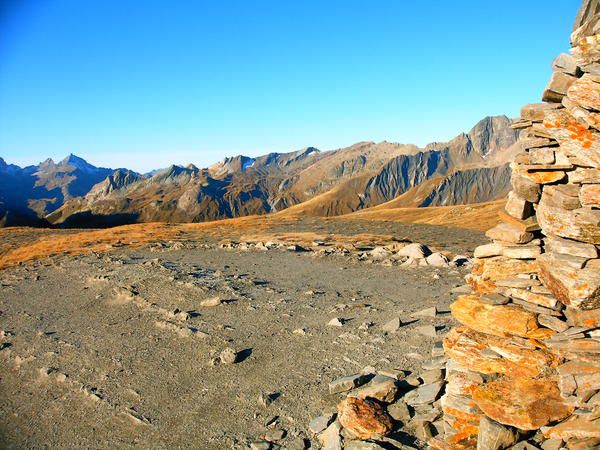 The "Col de la Seigne"
After 2 hours, we were up there, no one around (at first) but a awesome scenery on "Les Aiguilles du Glacier" and "Le Mt Blanc".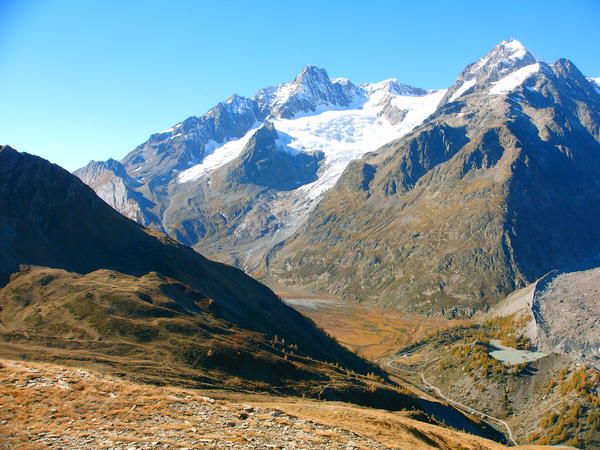 In the background, we can see "Les Aiguilles du Glacier"
It was only 9.30 am and this atmosphere was so special, after a hard hike we had to enjoy this show made by mother nature, what a feeling to be so alive...
video col de seigne
Vidéo envoyée par nikoancel

So we were in Italy and we had now just one thing in mind : walk to Courmayeur to enjoy a real italian diner! So we started to hike down.
The "Val Veni" is a beautifull valley with so many views on the massive range.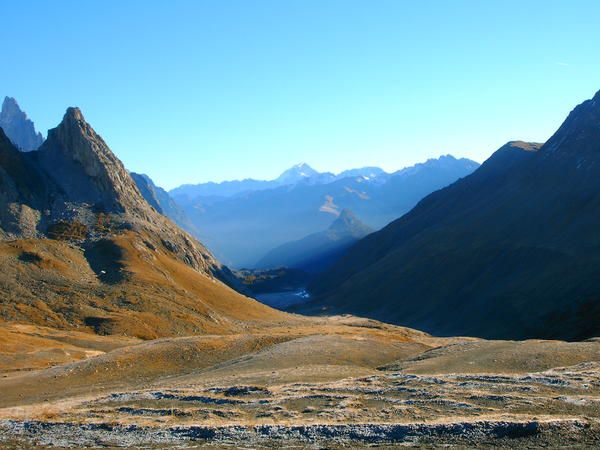 The "Val Véni"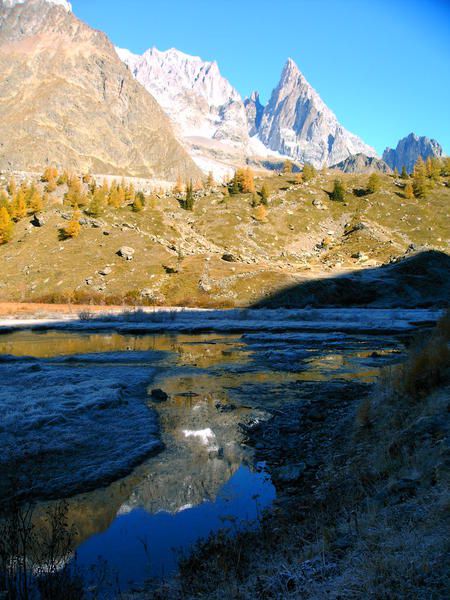 The mountains were reflecting in the icy lakes
We finally arrived in Dolonne (1210m) close of Courmayeur. It's quite a small village but with a lot of charm, you know the houses made in rock and this italian atmosphere where it seems that time has stoped a century ago.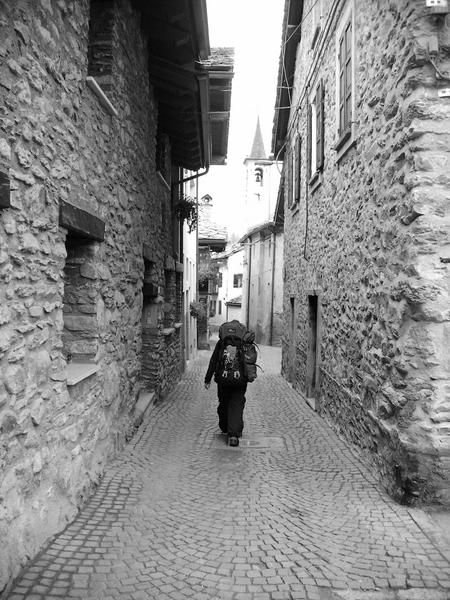 Andrea walking in Dolonne
That was and long and tiring day, we walked from 7.30 until 6.30 in the afternoon so we decided that we deserve to treat ourselves. We went out for dinner enjoying italian cuisine, very nice and so different of couscous we had the 4 nights before...
We also decided to have a day off the day after, just to relax a little bit and to enjoy Italy.
Day 5 : Dolonne - Villair Supérieur (+117m)
We just walked to Courmayeur to visit a bit. It's a nice city - ski resort just in front of the Mt Blanc where we feel that all the old italian traditions are still presents.
We crossed Courmayeur to stop in Villair Supérieur (1327m) where we washed ourselves in a river and we relaxed on a nice spot with a fantastic weather.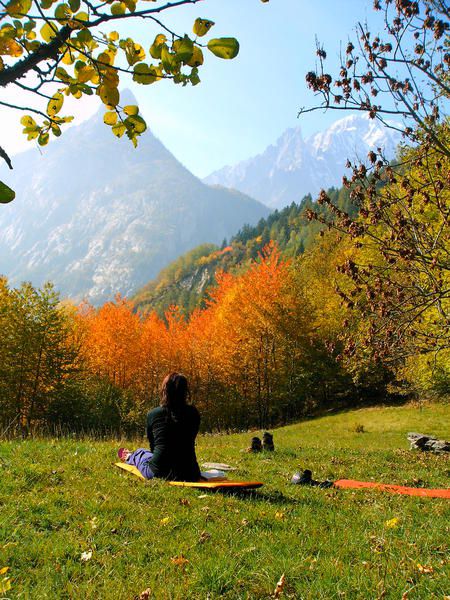 Andrea relaxing in Villair Supérieur
Day 6 : Villair Supérieur - Refuge Eléna ( +1306m/-571m)
We had just one day left in Italy before going to Switzerland and we were quite excited about that.
We hiked up to "le Pré" (2125m) before walking along the mountain. The clouds level was very low, we couldn't see anything around and we saw no one during the day. But we had the chance to meet a chamois on our way.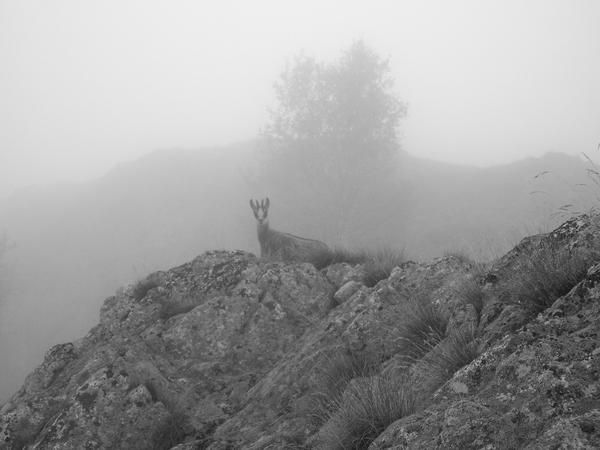 A young chamois looking at us
It may be young 'cause it was not scared at all, it was just looking at us wondering what are doing 2 idiots hiking by such a weather!
We decided to walk until the "Refuge Eléna" (2062m) which is just at the bottom of "le Grand Col Ferret", the border to Switzerland. We were hoping that the refuge was open 'cause it would be quite cold to camp at this altitude. Hopefully, it was open. The hutts in Italy, opposite to french's ones, keep an area open during winter time. There is no one to look after, no water, no electricity and no windows in that one but there are beds and a roof which is better than sleeping outside.
The forecast for the day after is not great : it's supposed to rain all day long, we'll see.
Day 7 : the end
We woke up at 6.00 and we waited until the sunrise. Once it arrived, we went outside to see that it was snowing at 2000 meters!!! Wouha, we are supposed to hike up to 2500m and the snow is getting stronger while we are climbing. All this does not seem to good for me : I just have basic hiking choose which are quite slipery on the snow, we have no detailed map and the snow is covering all the signs, I was anxious.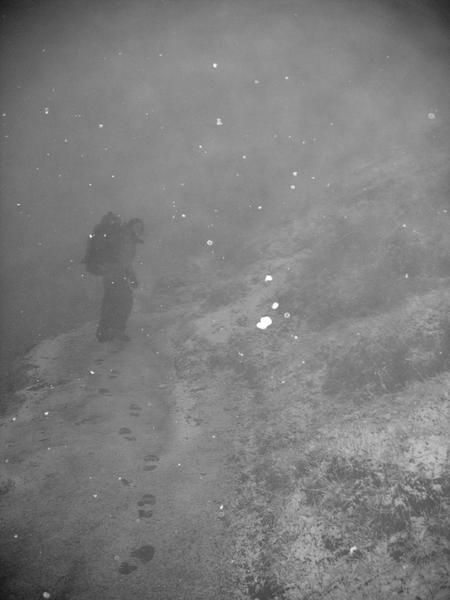 Andrea under the snow fall on the 7th day
We decided with Andrea to stop there. Maybe we could have kept going but we'll never know, we don't want to take any risk, that would be stupid that something bad happens, we are doing this for fun, it's not a contest.
That was an hard choice to do...
We reversed our walk to hike down to the valley where a lady offered us a lift to Courmayeur. We got a bus to Chamonix, and then a train to Les Houches. 5 hours after our decision, we were back to the carpark we were almost a week ago!
This is the end of our adventure in the Alpes and we were sad because we didn't finish what we were expecting to do but we already had a good time walking in the mountains for 6 days. Just relax our mind, focusing on our walk and enjoying all the magnificient sceneries.
Well, I know I'll do the Tour again but Andrea has to leave France so it was harder for her to take the choice to stop and I gratefully thank her, I hope you'll have the opportunity to come back one day and finish this adventure.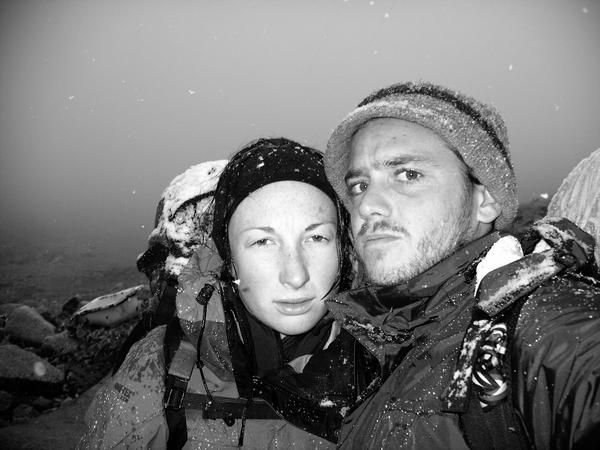 Andrea and I on our way back to the valley